Dealing with a music pre-production as a project can be like anything from a walk in the park on a spring day to handling a row-less boat through a storm in the Pacific Ocean.
Our goal, is to give you a few tools to help you be more prepared.
Who doesn't want to be better at music production?
So why not start with a pre-production checklist?
And if there's anything that can be decisive in defining how smoothly your project will flow is the pre-production stage, it may be a helpful raft.
But don't paint yourself into a corner. These are merely recommendations that worked for us!
I already wrote a post about the pre-production stage, so I will not delve into specifics here. Just make sure to read that post if you haven't: Pre-Production – How to Start a Music Project.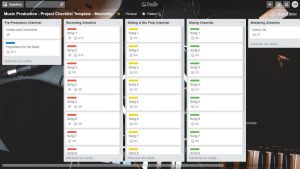 In my previous blog, I made quite a point in keeping notes and making lists throughout the pre-production process!
The Importance of Keeping Earnest Lists – Push yourself!~
In music production, a good list is much like the compass for the traveler: a tool that points you towards your goal – all you have to do is follow.
Downloading free loops might be your first step, but what's next? How will you use our free loops? What's the strategy?
Thanks to the internet, we can create really sophisticated lists that dynamically respond to our progress.
Trello is great, it's a free digital whiteboard.
It's a kind of ultimate online whiteboard for someone who has never seen a collaboration tool before!
We can use it to create amazing lists that can be shared with co-workers, clients, friends, family, and offer visibility into your work.
Or visibility into your pre-production check list – so as to keep track of assignments, jobs, and projects, among many others.
If you don't know what I mean, maybe you haven't been introduced to Trello just yet.
So if it's such an amazing tool, why don't we incorporate it into our productions?
The Music Production Checklist
First of all, we must give credit when it's due, so I'd like to thank Sam Lowe for coming up with this incredible checklist and sharing it with me.
To see the Music Production Checklist, click here (opens in a new tab).
Let's see what it looks like and how it works: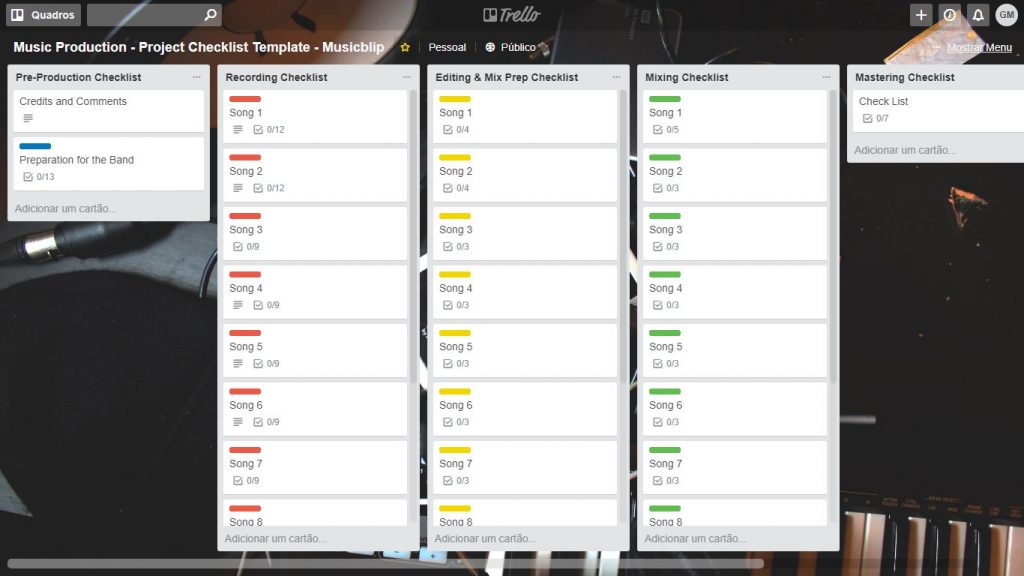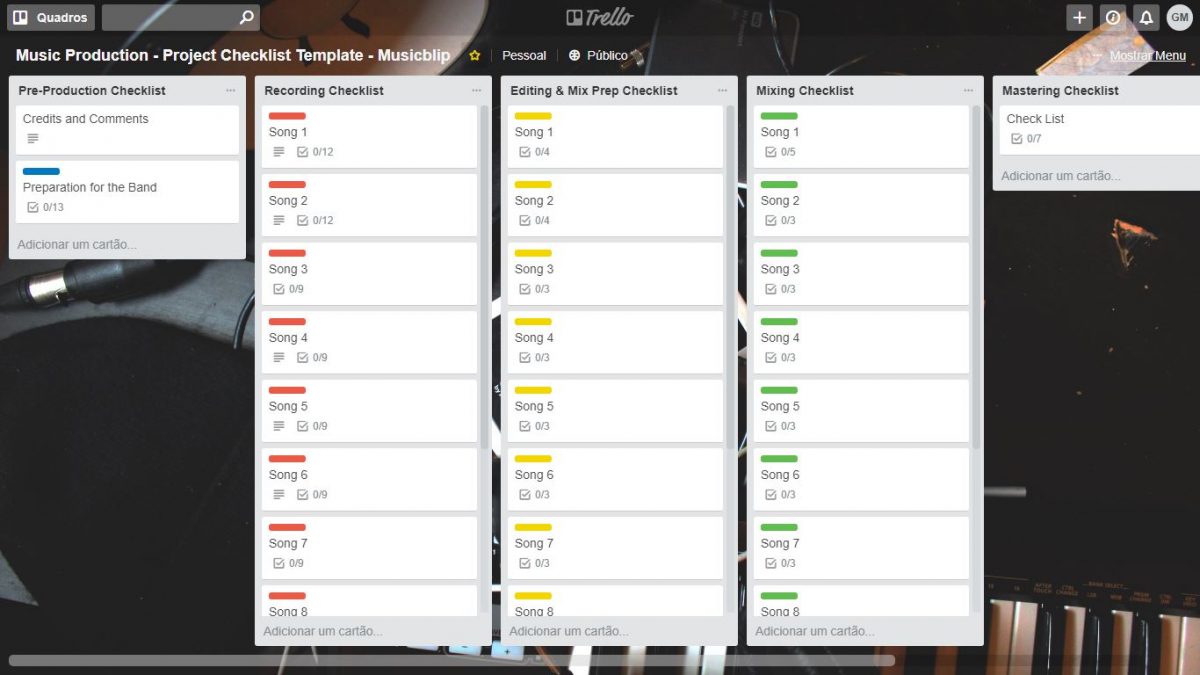 The Pre-production Checklist
On the leftmost column, you have the pre-production checklist.
This section is specially designed to deal with bands. Of course, if you don't have a drummer involved in the project, you can simply remove the drum-related items.
At the same time, if someone is playing a fiddle or a bagpipe, you can add the necessary items to the list.
Tip: if you are scheduling multiple recording sessions, you can duplicate this card as many times as necessary, adding dates and other relevant info, as well as editing each card to suit those specific dates.
If you're still building your studio, we recently read this book on Amazon that helped us offer our independent artists affordable options.
The Recording Checklist
This section of the board by default has 10 cards, each supposed to be renamed after each song.
As you and the band discuss the arrangement, you can add, change and remove items from the list on each card.
Again, feel free to make it suit whatever needs you have.
Don't forget to check out this small budget recording studio from scratch book, we read it recently and feel it's an important addition to any producers growth.
Editing, Mixing and Mastering Checklists
Both the Editing and Mix-prep Checklist and the Mixing Checklist follow suit from the Recording Checklist. Initially there are 10 cards by default, and you can rename them after each song.
They're really useful reminders of things like cleaning up tracks or applying some specific effects the band has asked you to.
In the Mastering Checklist we're back to a single card for the whole process. Add here whatever formats the project is going to be mastered for, notes on revisions, and any other information. This is really helpful for keeping everyone on top of the game in the final stages of the project.
So why don't you give it a spin and let us know what you think of it? Has it helped your overall process? Write us a comment and let us know!
Related reading: